Rocky River High School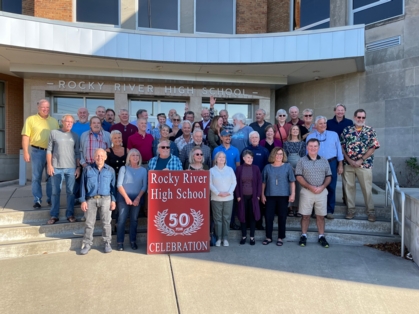 Welcome to the Class of 1971 Class Reunion website. 2021 marked our 50 YEARS SINCE OUR GRADUATION FROM RRHS! If you were able to join us Sept. 24-26...
Oh what a time we had!
Now it's time to share our pictures. We all took pictures with our phones...some high quality, others pixalated so you can't see our hard earned wrinkles!
It is easy to share photos. In the upper left navigation bar go to SHARING PHOTOS. The second tab please click on 50th CLASS REUNION..A box will pop up. click on CHOOSE FILE...after you have chosen the photo, click on UPLOAD. you can share one photo at a time.
Please note: I had to perform an update on my computer before it would cooperate. My IPhone actually performed best. I am continuing to work out a better format...for right now the photos are in a single row.